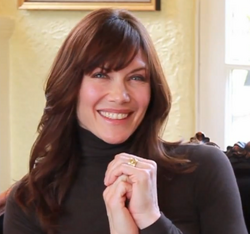 Stacy Haiduk was born in Grand Rapids, Michigan on April 24, 1968. She is known for playing Lana Lang on Superboy (1988–1992), seaQuest DSV as Katherine Hitchcock (1993–1994), All My Children as Hannah Nichols (2007–2008), and on The Young and the Restless in the dual roles of Patty Williams (a.k.a. Mary Jane Benson) and Dr. Emily Peterson (2009–present).
Haiduk first achieved national fame when she was cast in the role of Lana Lang in the live-action Superboy TV series of 1988. After the series ended, she appeared in the direct to video Luther the Geek for Troma Entertainment. After Superboy Haiduk portrayed Rhea McPherson, an aspiring FBI-agent, in the short-lived Spelling series The Round Table.
Haiduk next significant role was on SeaQuest DSV, in which she played Lt. Cmdr. Katherine Hitchcock, the chief engineer, and third in command of the high-tech submarine.
Haiduk appeared in the 1994 TV movie A Perfect Stranger (based on the novel by Danielle Steele). Haiduk went on to play a female vampire in the short-lived series, Kindred: The Embraced. After this stint, much of her acting consists of smaller films, such as Gabriela where she appeared alongside Jamie Gomez and Zach Galligan and guest star roles on television shows such as Charmed, The X Files, CSI: Miami, CSI: New York, Cold Case, Due South, Crossing Jordan, NCIS, Hereos, Prison Break, and Burn Notice.
In 2006 she appeared in new supplemental material for the Superboy: The Complete First Season DVD release. Haiduk also appeared regularly on the ABC soap opera All My Children as Hannah Nichols from January 2007 through January 2008. Since February 2009, she has appeared on the CBS soap opera The Young and the Restless as Mary Jane Benson (really Patty Williams); now she also plays Dr. Emily Peterson.
She is married to actor Bradford Tatum. The two met on the seaQuest DSV episode "Nothing But The Truth".